To stay ahead in the business world you must be innovative and think outside of the box at every opportunity. Sometimes though, this can be easier said than done. But one way that businesses – both large and small – are able to do just this is at corporate events, where being different can leave a lasting impression. So next time you have a corporate event to organise, take a look at what's offered by Nick Crown, a leading corporate event entertainer.
Nick Crown for many years has been a leading corporate event entertainer who helps businesses stand out from the crowd and impress important clients and contacts by breaking the ice at events and getting people networking.
The Role of a Corporate Event Entertainer
Many businesses consider Nick Crown a secret weapon at product launches, trade shows and other corporate events. He has over 10 years experience as a corporate event entertainer and can provide a wide range of services:
Strolling magic. Perfect for drinks receptions and other classy events. Some light-hearted strolling magic can really help to break the ice and keep everyone entertained whilst waiting to be seated, or after dinner.
Table magic. Hosting a staff party or a networking lunch? Nick Crown the corporate event entertainer will perform at every table in between courses and keep guests not just entertained but totally amazed!
Product Launches. Whatever your product, Nick will create a unique 'Magical Presentation' that will make its launch incredibly memorable. Corporate event entertainer Nick Crown works closely with business owners and marketing professionals to come up with a tailored routine that will have the competition quaking!
Team Building Workshops. Nick Crown's entertaining team building workshops are aimed at teaching certain skills. Participants learn in an innovative way which builds confidence and trust within the team.
Book your Corporate Event Entertainer Today
Nick Crown is available all year round. Corporate event entertainment is something that you must get right. Nick Crown is a vastly experienced professional who has entertained for major corporations such as Disney and the BBC as well as famous faces such as the Duchess of York.

When it comes to booking a corporate event entertainer, look no further than Nick Crown. Call him direct today on 07747 802 748.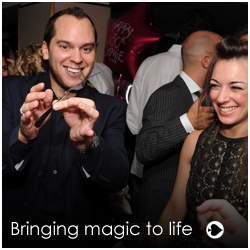 Corporate Event Entertainer UK